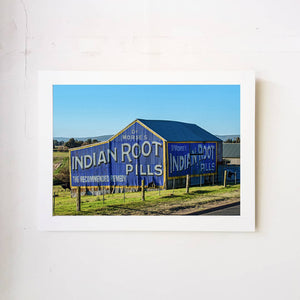 Indian Root Pills A4 Print
Sale price Price $21.00 Regular price
We nearly did a double-take when we saw this painted shed on the outskirts of Maitland, New South Wales! Indian Root Pills were a popular around the turn of the 20th Century and there are several ghost signs around Australia still advertising these 'cure-all' health pills. This one's the brightest and the best, faithfully restored for all to enjoy.
Printed on quality matt photo paper and delivered flat-packed and unframed.
Measurements 
A4: 297mm (w) x 210mm (h)

Photos are printed right to the edge (no white border). Product image shows how this print looks in a white frame. Noice!
FREE DELIVERY AUSTRALIA-WIDE 🦘