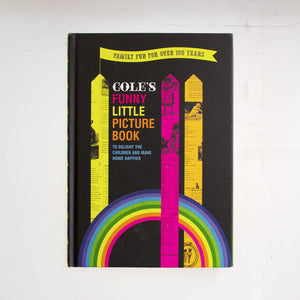 Cole's Funny Little Picture Book
Sale price Price $21.00 Regular price
E.W. Cole's Book Arcade in central Melbourne was Australia's most loved and renowned bookshop for more than 50 years. It was a riotous and incredible retail experience with tea salons, live animals, a speakers corner as well as jugglers and buskers, a hall of funny mirrors and the Cole's Book Arcade band.
Leaving a legacy of several best-selling publications, his most famous was the Cole's Funny Picture Book. A 'family amuser' filled with parlour games, puzzles, riddles, illustrations and games, it took Australia by storm and sold hundreds of thousands of copies.
This updated edition of the Australian classic contains facsimiles from the original books of humorous rhymes and poems, puzzles, stories, songs and cartoons, optical illusions, illustrations of crazy inventions and machines and much more. Chapters include Dolly Land, Girl Land, Boy Land, Play Land, Drawing Land, Monkey Land, Froggy Land, Piggy Land and much more!
Read Brady's article 'Curating Cole'
here
.