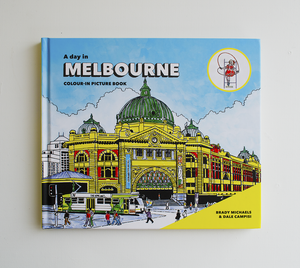 A DAY IN MELBOURNE COLOUR-IN PICTURE BOOK
Sale price Price $20.00 Regular price
A Day in Melbourne is a colour-in book for everyone from curious kids to culturally-minded travellers.


Featuring over 30 line drawings of iconic Melbourne scenes – from the city skyline to street life, busy laneways and beautiful buildings – this picture book provides a snapshot of the city, revealing the beauty, local icons and small details of this modern Australian metropolis. It's both a stylish keepsake of the city and the perfect art project to keep colourists engaged while reading vignettes that reveal a small story for each scene.


Original photos and art tips are included as a guide to colour Melbourne realistically or break the rules and colour the city of your imagination.