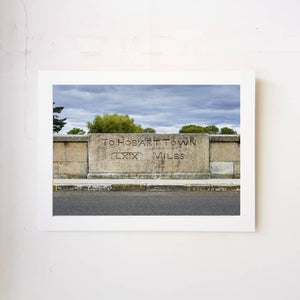 Ross Bridge A4 Print
Sale price Price $30.00 Regular price
Built in 1836, Ross Bridge might be less famous than the much-photographed Richmond Bridge, but it boasts two beautiful hand carved signs, including this one pointing to old Hobart Town. By the way, LXIX = 69 miles = 111.045 km. That's a long journey by horse and cart!
Printed on quality matt photo paper and delivered flat-packed and unframed.
Measurements 
A4: 297mm (w) x 210mm (h)

Photos are printed right to the edge (no white border). Product image shows how this print looks in a white frame. Noice!
FREE DELIVERY AUSTRALIA-WIDE 🦘