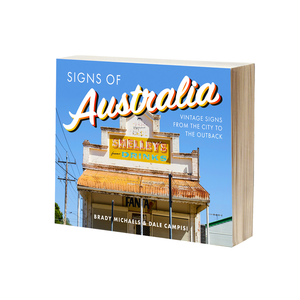 SIGNS OF AUSTRALIA BOOK
Sale price Price $21.00 Regular price
Once upon a time, hand-crafted 'ghost' signs brought colour and vibrancy to Australian towns and cities, advertising much loved brands like Bushells, Rosella and Peter's Ice Cream. Today, many of these old signs celebrate brands and businesses that no longer exist. Now faded and slowly disappearing, these signs tell the story of Australian life over two centuries. More than 500 photographs of vintage signs, iconic buildings and classic Australian scenes are included in this book.
'Once viewed by some as mere marketing, vintage hand-painted and hand-crafted signs increasingly are being celebrated as fine examples of commercial art and design and important markers of Australian social history.
Brady Michaels and Dale Campisi spent a year on the road travelling the length and breadth of Australia looking for vintage advertising. The result is Signs of Australia: Vintage Signs from the City to the Outback, a remarkably diverse collection of photographs taken by Michaels and accompanied by Campisi's thoughtful commentary.' - Simon Caterson, The Daily Review
FREE POSTAGE AUSTRALIA-WIDE 🦘
256pp | 155x200mm
Read about Signs of Australia in The Weekly Times.
Signs of Australia on the ABC News website.